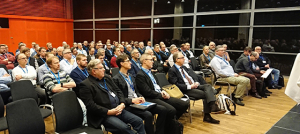 For 60 years, ITF Automation has brought together everyone who is interested in professional automation and measurement technology. And they are the people behind "Automation Days", no less! Since 1987, the ITF Automation Days have been the meeting place for discussing Sweden's industrial future, digitalisation and modern automation. In 2022, Automation Days will make its first appearance at Scanautomatic and the Swedish Exhibition & Congress Centre.
– In 2022, we will connect Automation Days with Scanautomatic, which we believe is a good and valuable combination. Our combined knowledge and network, and the energy behind the Swedish Exhibition & Congress Centre and Scanautomatic will create an ecosystem for the automation of the future. Together we will be stronger, says Rickard Lycke, chair of ITF Automation.
Automation – more topical than ever
Despite the fact that ITF Automation is 60 years old, it is perhaps more relevant today than ever before. Automation plays a leading role in Industry 4.0 and ITF Automation is working to promote competence development and knowledge-sharing in this area.
– Swedish industry is currently facing major challenges and we want to work to promote the growth and development that is needed. We will need a much more skilled workforce, new innovations, new technology and faster development. Through ITF Automation and Automation Days, industry can come together to discuss how we should solve these challenges, Rickard says.
A key challenge within ITF Automation as well as industry as a whole is very much centred around competence issues. Swedish industry needs a regrowth and a consequence of that is a great need for education.
– Our goal is to raise automation issues, putting them on the agenda. The ultimate goal is of course for Swedish industry to lead and prosper – and this is how we believe we can help it. It is with automation that Sweden can become competitive, Rickard says.
ITF Automation is an association that consists of individual members, i.e. not corporate entities. Many people go there because they do not have a group with which to discuss their experiences and brainstorm ideas.
Focus for Automation Days 2022
As mentioned, ITF Automation and the Swedish Exhibition & Congress Centre will put their wise heads together and Automation Days will take place in October during Scanautomatic 2022. It is hoped that the physical meeting will pave the way for new contacts, exchanges of experience, problem solving and innovation.
– The focus for Automation Days 2022 will be very much about trends in the automation of the future, but above all about the skills supply. Along with other associations such as Automation Region, PiiA and SEIIA, we can see that we'll be stronger both individually and working together, and this will also help us to achieve a better future. With this joint event, we as members of ITF Automation will have even greater opportunities to exchange experiences and build connections through new contact networks, Rickard concludes.
Find out more at Scanautomatic and Automationsdagarna 2022.