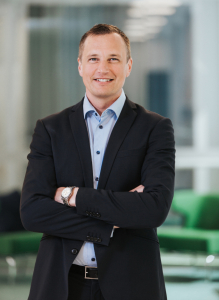 Sweden's process industry is seen as a world leader. A big reason for this is close cooperation with IT and automation companies – but it takes more than that. Critical success factors in process industry are digitalisation, access to the right technologies and the correct working methods. And that's where Process Industrial IT and Automation (PiiA) comes in. 
– Our mission is to enable digitalisation in the process industry through strategic collaborations between different suppliers and researchers.  PiiA is part of Sweden's strategic innovation programme and one of our goals is to provide Swedish process industry with access to advanced IT and automation solutions. In this way, we increase our chances of competing in a global market, says Peter Wallin, programme manager at Piia.
Competence, access to the right technologies and solutions are important to be able to compete in a world market, Peter adds. One way to ensure access to these elements is to create strong relationships between academia and industry. PiiA does this by funding collaborative projects between different companies, researchers and institutes. The basic requirement is that the project should involve several actors working towards the same challenge.
The Digital Main Line at ProcessTeknik 2022
An example of such a project is PiiA's work on the  Digital Main Line. This project originated in the process industry's need to expand the digital infrastructure.
– The Digital Main Line is a project that focuses on the exchange of information between companies. There is a big challenge today in the extreme amount of information and data that exists in individual companies but for various reasons is not shared across company boundaries, Peter says.
Digital Main Line is building the "railway" of the future, but for information and industrial data. Companies will be able to connect to the Digital Main Line and access data in different parts of the value chain.
– The project is divided into two parts; indtech and production. The production part focuses on increasing the industry's use of digital platforms and raising the level of digitalisation of the manufacturing industry. And indtech will develop industrial understanding and insights. It is within indtech that PiiA is a partner, and we intend to demonstrate digitalisation in practice through industry case studies, Peter says.
Digital Main Line enables more efficient production and learning about how products in the process industry are used.
– In terms of production, it can lead to optimised processes. The more information you have, the more opportunities you have to develop services and other product features and attributes. Digital Main Line will offer a give-and-take approach whereby you both share and acquire information, Peter explains.
Towards a more sustainable process industry
Like all industries facing major changes, the process industry is currently experiencing some challenges. In particular, companies in the industry are in different positions with regard to digitalisation and the industry is falling out of step.
– Now the talk is over about digitalisation and it's time to start taking action. We see some companies that have come a long way and many who are still in the starting blocks. It used to be more on the same level but now there's a big difference and often large enterprises have come further. These large enterprises are, in turn, starting to make demands on smaller companies and how they should deliver. There is clearly a job to be done here. Ours is an innovation programme and we have the potential to support companies in solving their digitalisation challenges, Peter says.
Creating a digitalised and sustainable process industry requires effort and, above all, collaboration. Peter also believes that there has been a shift in the discussion about digitalisation for some time.
– Previously, digitalisation was about optimising individual machines. Now we are talking about connected value chains and how data can flow within and between companies. As the focus shifts in this direction, new challenges arise. Who owns the data? And what does the business model look like? Many of our projects are demanding in regulatory terms. Traceability is increasingly important for a circular and sustainable industry, and we need digitalisation to get there.
"PiiA gives courage to process industry"
PiiA understands the value of the collaboration it enables through meetings and events. This is further strengthened by the collaboration with the Swedish Exhibition & Congress Centre.
– PiiA plays an important role at the leading edge, and we make process industry more courageous. Many of our partner companies make bold investment decisions based on the projects we have done. We have a high level of innovation, and the Swedish Exhibition & Congress Centre offers us the platform to find our target group. Working together, we enable the sector to come together and develop the contacts it needs to move forward.
More collaboration partners will gather at ProcessTeknik and Scanautomatic 2022: PiiA, SEIIA, ITF Automation and Automation Region. Peter is very positive about this.
– We are all working for the same thing but in different ways and many of the challenges faced by our partners or members are industry-wide. The more of us there are, the stronger we become. We can also make sure that more people know what we do and how we can help, Peter concludes.