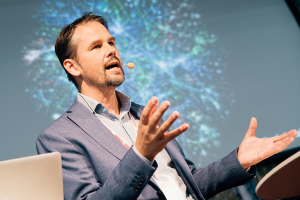 In 2022, the Innovation Hub will premiere at ProcessTeknik. It is a unique meeting place where startups come together to meet industry and understand its needs. The Innovation Hub consists of an area specifically dedicated to exhibiting startups, where your company will have the chance to meet technology startups focused on the digital solutions of the future. Solutions that enable smarter and more sustainable industry.
Matchmaking via Ignite
Ignite Sweden is a non-profit organisation working to promote innovation by connecting startups with larger companies. In conjunction with ProcessTeknik, Ignite Sweden offers a digital matchmaking service, where both large companies and SMEs can take part.
– Within this matchmaking, which we conduct in parallel with the fair and the Innovation Hub, we look at companies' problems, challenges, needs and priority technology areas. Then we find startups within both our registry and among those participating in the Innovation Hub to identify a match that can provide the basis for a solution, says Linn Sidahl, project manager at Ignite Sweden.
During ProcessTeknik, Ignite will conduct a tour of the Innovation Hub with visiting companies, seeing all the startups, who will have the opportunity to present themselves.
– This is a unique chance to explore the startups at the Innovation Hub and to see opportunities to increase their technology pipeline. The focus of the startups is solutions that digitise industry and manufacturing processes, Linn says.
Ignite Sweden invites small and medium-sized manufacturing companies to lunch
During ProcessTeknik, Ignite Sweden invites small and medium-sized enterprises to a lunch to learn more about their matchmaking and innovation work.
– We want to share Ignite's best practices and show them how to work to increase the level of innovation in their business. Partnering with knowledgeable and technology-driven startups is a very effective way to do that, Linn concludes.
For more information contact:  linn.sidahl@ignitesweden.org