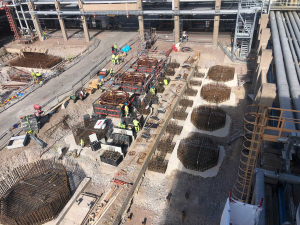 Demand for renewable fuels is growing. Major industries are retooling to meet tomorrow's needs. And one of those players is Preem, which is now scaling up its renewable production. This includes a large and intensive project to multiply renewable capacity.
Since 2020, Preem has carried out a number of priority initiatives. Priorities linked to a climate-neutral society. And now Preem is putting a central part of its efforts into initiatives and projects that directly contribute to the climate goal. For example, by adapting refineries to renewable and reduced production.
New Opportunities is Preem's department working through innovation and strategic business development to set out Preem's roadmap, with the goal of making the entire value chain – raw material, production and product – climate neutral by 2035. Henrik Rådberg is Head of New Opportunities.
– One of the foundations of what we are doing at Preem right now is the Paris Agreement. Even before the agreement was in place, we had already started our transformation journey, but with the agreement, it has become increasingly important for us to accelerate the transition. We are adapting our product portfolio to the demands of the future. For us, it means a shift. A shift with decreasing emphasis on road transport fuels, and more emphasis on the marine sector and the aviation sector, as well as the chemical industry. Hydrocarbons will be needed, but we want to make them from renewable and recycled sources, Henrik Rådberg says.
Biofuels in focus
One of the projects Preem is currently working on is a major rebuild, whereby a diesel plant at the Lysekil refinery is being converted to co-processing renewable feedstock for the production of biofuels.
– The plant currently produces Class 1 diesel. Now we're rebuilding it so we can co-process the diesel with 40 percent bio-based feedstock. That means building new pipelines from ports where the raw material is imported. These pipelines will in turn go to storage tanks that were previously used for fossil fuels but will now be used for renewables instead. We are rebuilding the process plant itself to adapt the heating system, reactors and metallurgy to resist corrosion.
The major rebuild is well underway. And Preem's goal is to have the plant up and running in the first quarter of 2024.
Another effort Preem is currently pursuing involves the continuous upgrading of lignocellulose into high-quality biofuels. This involves converting pyrolysis oil made from sawdust into hydrocarbons in the catalytic cracker at the Lysekil refinery.
– Research and development in this area is important. We see that forestry residues are valuable as a raw material base for our future projects.
"Politicians need to be in the future"
The climate issue is acute and the implementation of sustainability efforts by major players is vital to the success of the transition.
– An important aspect of achieving Sweden's goal of a 70 per cent reduction in transport emissions by 2030 compared to 2010 is the obligation to reduce. Biofuels will be very important in the future, and we look forward to contributing to this.
Collaboration is one of the keys to making the transition happen. And that means collaboration between stakeholders, research and policy makers.
– Preem is fully aware of the need to phase out fossil fuels. And we are serious about the transition. To secure processes, technologies and raw materials, we need to link arms with many players – and politicians must ensure that the right instruments are in place. The shift to a fossil-free energy system, the expansion of wind power and transmission capacity must be accelerated. And this is for the benefit of society as a whole. Politicians need to be in the future, just as industry is, Henrik concludes.
During ProcessTeknik, Preem will take the stage to talk about the work that is currently being done within the company to increase renewable production. ProcessTeknik is the event that brings together the entire process industry to collaborate on the industry's challenges – and solutions.