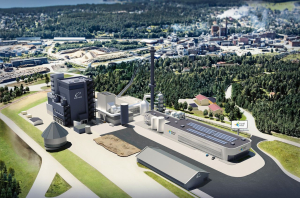 As we know, society is on a huge journey in its efforts to phase out fossil fuels. The shipping industry alone consumes 300 million tonnes of fuel every year, which urgently needs to be replaced by renewable alternatives. An opportunity that Liquid Wind has tapped into. It is now electrifying shipping with a green, liquid fuel.
– For more than a century we have used fossil fuels freely and without paying emission taxes for it. Today we face a different reality. We must replace fossil fuels while using the resources we have. Liquid Wind enables the development of the electrofuel e-methanol by combining electricity from solar and wind with biogenic carbon dioxide, says Claes Fredriksson, CEO and founder of Liquid Wind.
Liquid Wind is working to produce green electrofuel on a commercial scale, replacing fossil fuel alternatives and reducing carbon emissions.
A carbon-neutral liquid fuel alternative
Historically so-called grey methanol, methanol that is produced from fossil fuels, has been widely used in various industries, and the chemical industry in particular. Now Liquid Wind wants to produce e-methanol from renewable energy instead, creating an alternative fuel that is carbon-neutral.
– We are an electrofuel development company, which means we develop and prepare everything that needs to be done to build factories that can create the fuel. So we find land, electricity and biogenic carbon dioxide. Biogenic carbon dioxide comes from the plant kingdom, meaning organic matter. In our first production plant, FlagshipONE, in Örnsköldsvik, we will take biogenic carbon dioxide from Övik Energi's combined heat and power plant and combine it with green hydrogen gas produced from wind-powered electricity – to create e-methanol.
FlagshipONE is jointly owned by Liquid Wind and the Danish company Ørsted.
"The biggest thing to happen in 100 years"
The development of the first large-scale green electrofuel production facility is currently underway in Örnsköldsvik. Construction is scheduled to start in early 2023 and it will be the first commercial plant in the world for renewable e-methanol.
– This is the biggest thing to happen in the area for 100 years. It's also great that we can do it here in Sweden. We have access to biogenic carbon dioxide; we have the knowledge needed to build this type of plant; and the technology needed is here. It is extremely positive for Sweden to take the lead in this segment. But we must also ensure that both decision-makers and users are involved in enabling the transition.
Liquid Wind has been working with Stena since 2016, when the two firms participated in their feasibility study on the electrofuel. Stena is an early adopter of electrofuel and converted Stena Germanica to run on methanol back in 2015. This is because it takes some work and preparation within the shipping industry to be able to use the fuel, and efforts from the policy community to help society make changes.
– We can see that there is a commercial challenge here. Shipping needs support from the government during the transition to green fuel. The technology is there, the electricity is there, and the will to do it is there. But it will be more challenging commercially without conversion support. With time and experience we will develop the process to make it more commercially viable. But now we face a reality where we don't have time to wait and we need to help each other, Claes concludes.
On 20 October, Ulrika Grimfeldt from Liquid Wind will take to the ProcessTeknik stage. She will talk about their journey, e-methanol and the development of the plant in Örnsköldsvik.