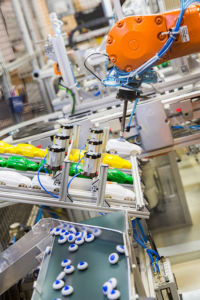 Smart Factories – experience the latest technology
Smart Factories (formerly World of Possibilities) is a forum where business and higher education interface to strengthen Swedish industry and technology, and promote regional development. The popular Smart Factories activity area at the fair features demonstrations of such new, growth-boosting technologies and solutions in a practical context.
Car Assembly Plant 4.0
For many people, Industry 4.0 is still not much more than a buzz word. But the Smart Factory theme at Scanautomatic and Process Technology 2018 will bring it to life with the Car Assembly Plant 4.0, where visitors will have a great opportunity to experience a Smart Factory and get up to speed on the leading-edge technology at Car Assembly Plant 4.0, with concepts such as AR (Augmented Reality), Big Data, IoT (Internet of Things), Network Society and Digital Twins made concrete in experience-based workshops.
Target Groups
Teaching staff (Colleges of Technology, High Schools, Advanced Vocational Training and Advanced Vocational Training for Adults) and anyone who works in technological education.
The project in brief
The project is aimed at young people, teachers, school careers officers, and study counsellors. The project also includes companies and businesses to add extra value for all involved. More than 100 companies, organisations, schools and official bodies and agencies are participating as joint organisers with the Swedish Exhibition & Congress Centre. And more than 100 students from the above mentioned centres of learning have designed and built various 'factories' during term time with guidance from the companies.